Today I'm happy to announce a new feature on A Few Threads Loose! When I find something sewing related that I just have to have, or think you would like to know about too, it will be featured in Sew in Love! Today's post is about a shop on Etsy that has the most delicious sewing screen printed t-shirts. I bought one the second that I found the shop and will probably be buying a few more in different colors soon. (I have a huge weakness for clever screen-printed tees. But more on that later.)
Bruno and Betty
is a clever amalgamation of retro inspired graphic design and charming humor created by a husband and wife team from Bloomington, Illinois.
I was so delighted by Bruno and Betty that I asked Priscilla, a.k.a. Betty if she would tell us a bit more about how they got started. Here's the whole lovely conversation!
Priscilla, how did you and your husband become interested in screen printing?
My husband Andy learned how to screen print in school and showed me the ropes. I was instantly smitten with the process. It's like my version of modern day alchemy!
What led you to opening a shop on Etsy?
I first found out about Etsy from a crafting resource site called
Craftster
. It seemed like everyone there had a Etsy shop. At the time I was more interested with the community aspect of crafters and hadn't even considered selling anything. Then the bulk of my projects started piling up and I needed a way to find them good homes.
My husband is amazingly supportive of my business, but I'm not sure he would want to jump in and start drafting patterns with me. What is it like working with your husband at a small business?
Since Andy taught me how to screen print he's always been super supportive and a major player in our business. Not to say it isn't a hard dynamic with us being husband and wife. It took lots of trial and error for us to find our places within the business. We found that I enjoy the printing process more then the shipping process, which is why his major role currently is quality control and shipping guru. I press the majority of orders but we both really enjoy working on the design concepts.
Obviously my favorite things in your shop are the vintage sewing inspired screen printed t-shirts. What are some of your sources of inspiration when you put together a new design?
The sewing machine is one of my favorites too. I based the design from an old sewing machine of my grandmothers, when she passed away I inherited her crafting supplies. She was the entire reason I started making things in the first place. We get inspiration from all sorts of places but it's always something close to our heart. We don't make anything we wouldn't wear or wouldn't have in our home. I think that's why we feel a certain closeness to our customer base.
Your shop definitely has a palpable sense of humor going on (and I LOVE it). Is there any kind of line, or comedy barrier, so to speak, that you've drawn to keep thinks kosher, or do you occasionally push the envelope a bit?
We definitely have a odd sense of humor and think there are a lot of things taken waaaay too seriously. Especially when it comes to decorating. We haven't actually set up a comedy barrier for our designs but there is a rather thick notebook filled with odd ball ideas we've had that will most likely never materialize.
In your thinking, what is the best thing about creating as a team?
I'm very focused when it comes to our creations, my process is very streamlined. Whereas Andy likes random slightly controlled chaos. Our creating process always starts out a bit shaky but everyone is usually happy at the end result. This works pretty well for us, some of our best design ideas (like the
home sweet gnome
design) started out as a whole other concept and then with one swift remark from Andy, is one of our best sellers to date.
..............................................................
What a cool team! It's amazing to find someone that you can happily share your life with, add successfully sharing a business to the mix and you have a formula for a wonderful and rare relationship. Livin' the dream, I tell you :)
Bruno and Betty were nice enough to also make this post into a giveaway! They are celebrating the one year anniversary of the opening of their website www.brunoandbetty.com starting in July and will have a different promotion every week to mark the occasion. This week, one lucky reader will win a
Felt Owl Patch Pack
!
The prize is a set of 3 felt patches featuring a wide eyed owl hand screen printed in black ink.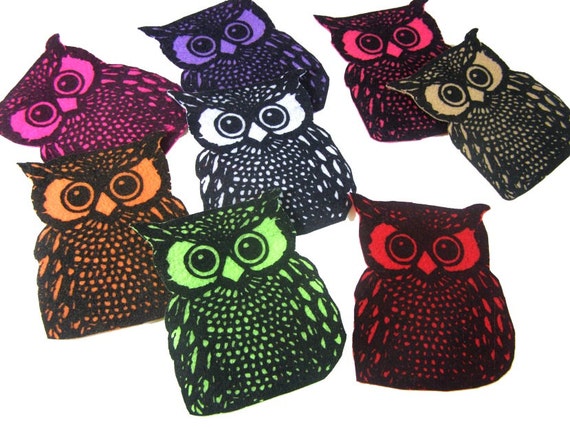 To enter the giveaway here on A Few Threads Loose, check out
Brunoandbetty.com
and leave a comment on this post with your favorite item.
For an extra entry, you can do one or both of the following, just leave a comment letting me know about it!
I'll announce the winner of the giveaway on July 2nd.
Good luck to the participants and a huge thank you to Bruno & Betty!