Lets sew a bra, shall we? I'm going to start with sewing the plain bra (version 1) and later on I'll do the corselet (version 2) as well.
Sarah
is doing one of both as well, and has kindly created a couple of great posts on
what we'll need to plan for the bra
, as well as
her invaluable perspective on sewing the corselet version for the more generously endowed
; a must-read if you plan on sewing Version 2.
The first thing you need to do once you've
printed your pattern pieces out
is to add your seam allowance.
But wait! You need to decide how you want to sew the bra before adding any allowances.
If you plan on binding the top AND the bottom of the bra, don't add any seam allowance to the top half of piece #1, the bottom half of piece # 2, or the top and bottom half of piece #3.
I plan to bind only the top half of the bra and I'll be joining my bra lining and my bra outside at the bottom so I'll need a seam allowance there.
Here you can see that I have added seam allowances to the center front of both bra cup pieces (seam A), the cup seam (B) and the side seams (D).
Another thing you need to keep in mind is what type of closure you plan on using. You can use a purchased bra back, S hook,
vintage closure
, or the old school vintage buttonhole. Whichever you choose, make sure that your bra center back is wide enough for your closure choice.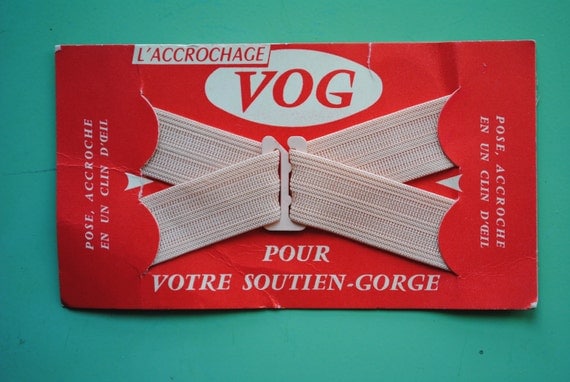 I'll be using one of these, I can't wait!
Below is my muslin version (pay no attention to my sluttish sewing on this one, I did it waaaay past my bedtime!)
I know that for many seamstresses, the reason they sew their own bras is because commercial bras are usually too small for them or don't last. Not in my case. I sew my own lingerie because most bras are too big for me. Sad, I know, but true.
So for a tiny girl like me (up top, at least) I actually needed to make some adjustments to make the bra fit my small cup size (barely a B on a really good day).
The center cup seam allows for a full B cup, and looks saggy and odd on my small bits.
Not ok. Not ok at all.
This just won't do.
So, in my muslin, I stitched my cup seam again, this time about 1 cm in from my first line of stitching, grading at the side seams and center just a bit.
And this is how the cups fit afterwards. Much better!
Naturally, I'll need to make these adjustments to my pattern pieces now. A French curve comes in really handy in cases like these. Isn't my vintage one pretty?
I marked 1 cm in from the very center of cup where it will rest over my... ahem... nipple.
I graded this down just a tiny bit at the center and side seams. Now I'll need to make sure that my adjustments will fit the bra back piece (#3) at the side seam.
A tad too big now.
As you can see, the bra back side is too long now for the bra cup sides. So, all I need to do to remedy this is to line them all up and mark my excess for trimming.
I used the edge of my French curve to follow the smooth, slightly curved line that the bra back creates, then marked and trimmed my edge.
Voila! Now my pattern pieces reflect my tiny top half and I'm ready to move on to cutting out my pretty, pretty satin.
How about you? What fabric have you chosen to make your bra from?
And Oh My Gosh! There are now 350 of you following A Few Threads Loose! I love you ALL, each and every one of you. Thanks for reading my blog, you beautiful people, you.