Here are just some interesting things for your day...
Tilly and the buttons is hosting a giveaway
. There's a fantastic observation on fitting a garment to the human form, and the comment to win section is really a great read. She asked that everyone share a sewing secret or tip and the resulting comments are fascinating and informative.
Also, if you like vintage fashion catalogs (swoon) there's a great collection of pictures over on
Casey's Elegant Musings
, shared with us by her guest blogger,
Ashley from Bramblewood Fashion.
In other news, I got my Victoria's Secret catalog in the mail today and instantly fell in love with this:
So I got online and bought 2 yards of lovely rayon velvet and dug through my Burda Fashion Magazine collection for a great button down shirt pattern. I found a dozen or so. more on that later.
So of course that got me thinking about what else I like in the catalog that I could sew...
and I went straight to the page that had these gorgeous leggings:
Naturally I hadn't checked out yet at fabric.com so did a search for stretch corduroy and found
this
, and promptly bought some of that too.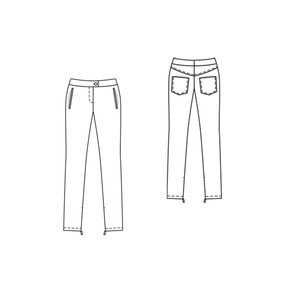 This
Burda skinny trouser pattern
is just what I have in mind. Good thing I have the issue filed away in my collection, ready to go!
I think post sew-along I'm going to have some fully modern sewing on my hands.