Many of you might come to expect by now that vintage hat patterns are worth a pretty penny. We've watched
Millinery for Every Woman
and
McCall 1974
sell for quite a bit in past editions of Sew Expensive. We know that sometimes the artwork and sometimes the short window that the design was in style can increase a pattern's value.
And today's pattern is no exception to the rule. The artwork is beautiful, the pattern is flattering, and the hat in question was only in style for a short while in the early 1930's.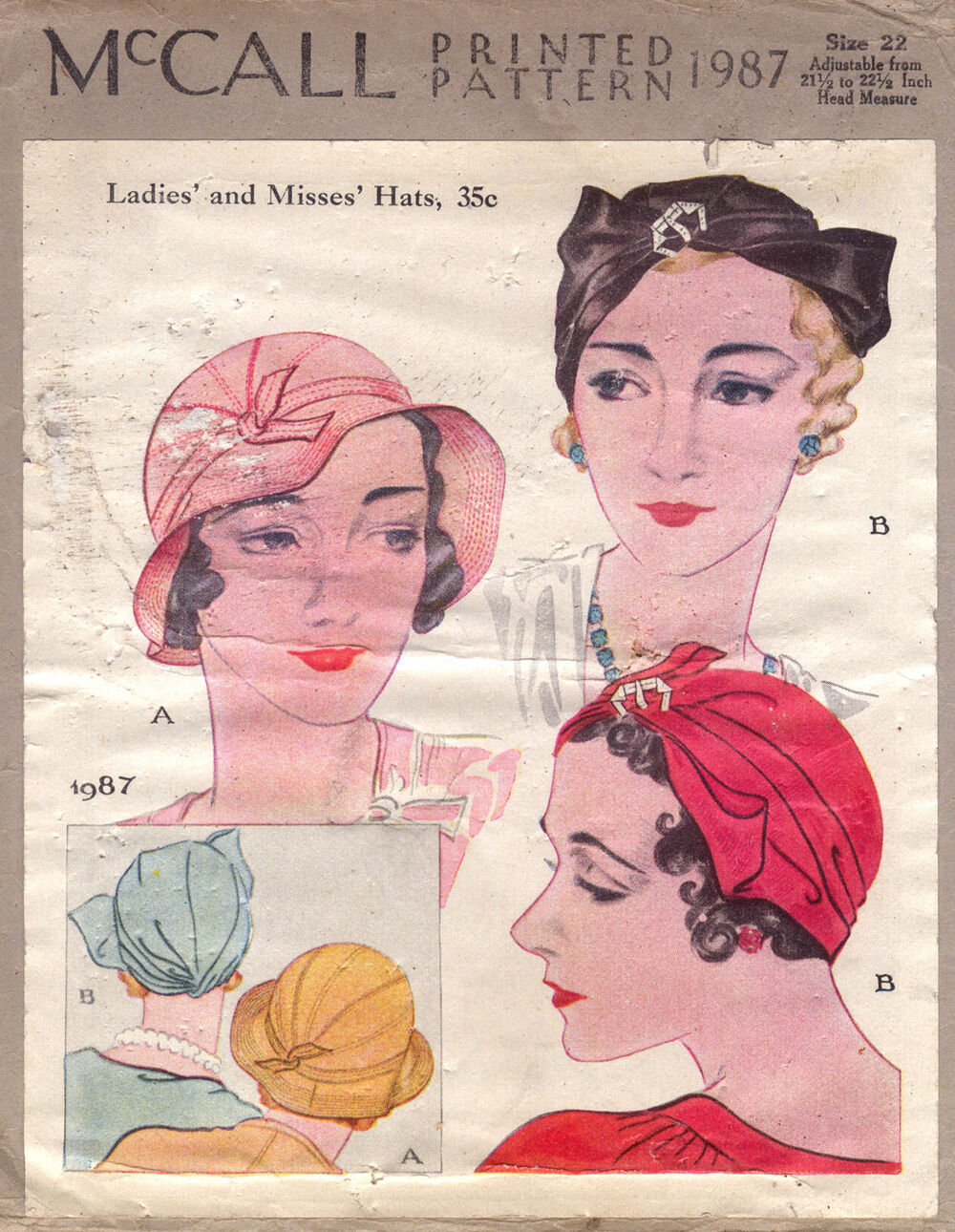 A few nights ago, I watched the lovely
McCall 1987
sell for a predictable, and yet still shocking
$223.37
.
We've often discussed why patterns sell for more, but why hat patterns, specifically?
In general, accessory patterns don't survive as often as dress patterns. Maybe it's the small pieces, maybe fewer were originally printed, maybe both. But the fact remains that if you find one of these, it might be the only one you find in 20 or 30 years! Version B in this pattern is an especially rare design to see a pattern for. I know it's not in style right now, but
don't you just want to wear that hat
?
Not too long ago,
our last Sew Expensive post
got a very exciting comment left on it. A lady named Jan most graciously took the time to comment on the post to explain why she was willing to pay so much for (and she did in fact win!) this, and other patterns. Jan was sweet enough to allow me to share with you her comments, and so I present to you, my dear readers, the mind set behind some of our most
Sew Expensive
patterns!
----------------------
Jan:
"I had the winning bid on this pattern, and just snagged it by a few dollars margin, and although I really wanted it (see below), assumed it would go for more than my max.

I am also guilty of paying a huge sum for a 30s Vogue Couturier on Feb 24, 2014, for which I paid $643.33:
However, mine was not the highest I've seen on ebay. I kept a record of a 1940s Mail Order pattern, albeit factory-folded, that not only sold on Dec 2, 2013, for $2,025 (yes, that's two thousand….), but also that the buyer did not back out and completed payment, leaving feedback on Dec 21 that said "Thanks so much for free shipping!" (buyer's exclamation mark, not mine). Here's the link, still active.
I sell vintage patterns on ebay now and then, and remember the buyer above, who seems to collect for scrapbooking.

The most recent high-priced Vogue Paris Original was a 1950s Patou that sold on ebay on Mar 8, 2015, for $580:
Regarding my winning bids above, they are nowhere near what I would normally pay for vintage patterns, mostly 20s through 50s, as reasonable to me is within $40, even for ones harder-to-find and with intricate design details. The 30s Vogue was a very special anniversary present from hubby after I told him what I wanted to leave as a top bid, mainly because it is one specific person who always snares all the 30s Vogue Couturiers, and after being an under-bidder to this ebayer a handful of times, I decided to go for broke! Regarding the Pictorial 9072 that I just won was the one I'd bookmarked on etsy since 2011 that sold to someone else, and re-appeared on ebay, and it is clearly the same pattern because the envelope tears and other artifacts match up exactly, but sadly had been taped in the interim.
I'm not a collector, and regularly sew all my own outer garments, and have done so for 3 decades, starting in my mid-twenties. It began by deconstructing vintage garments that I bought for very little and that fit me well, mostly coats, jackets and dresses. I would carefully take them apart, stabilizing the edges to prevent becoming wavy during handling, mark grain-lines, before transferring to pattern-making paper, and re-creating another garment. It was painstaking, but the results were worth it, especially since I've always preferred quality over quantity.

I've already made up the 30s Vogue to wear to a deco-era home-based wedding of a close friend's daughter, and also shared the pattern copy with someone else who loved the way my dress came out. The Pictorial Review 9072 I won was factory-folded to my pleasant surprise, and I don't see it only as a wedding dress, or evening wear, but also as a day dress in the sleeved version. I have other Pictorial Reviews from the 30s, and although they do not have the design intricacies of Vogues, they are very well-drafted and fit me with little to no adjustments, assuming I can get bust 34".

I have tried drafting my own patterns from scratch, and soon appreciated the nuances in design details that 20s through 50s pattern have, and so gave up. Sleeves and bodices, especially in dresses and blouses, are far better drafted than CAD programs allow, and hand-drafting from vintage-era books is agonizing! The customized pictures in these old books look yummy, but trying to replicate proved impossible for me.

I discovered vintage patterns, and vintage fabrics by accident in my late 30s, after I moved to USA from England, and have not looked back since doing so. I taught myself finer sewing techniques, and for over 20 years almost always interline (underline) with either a lightweight cotton-silk voile, or various other materials including one recommended by David Coffin at Threads, namely cotton flannel (needs multiple washes to remove excess lint and to prevent later differential shrinking).

So, here is a glimpse of only one pattern buyer out of countless thousands and what makes me tick."
Jan, I know I speak for all of my readers when I say THANK YOU for taking the time to share with us both your pattern research, and a bit about what makes a pattern buyer tick! If you ever want to talk patterns, please feel free to email me!
I can completely understand where you're coming from. I haven't needed to yet, but if one of the elusive
Simplicity S-Series patterns
that I'm missing came up for auction, I would be obsessively bidding into the upper hundreds just for a chance to complete my collection.
And on that note...
Missing: Simplicity S607. Reward offered.