I give you the lovely slip that I finally got pictures of. It's really hard to take quality blog photos when your current country of residence has some sort of sunshine deficiency. Hurrah for one day of sun!
Mike went out of town for the weekend and while he as gone I took advantage of the fact that I can't sleep when he's gone and whipped this baby up over night. It took about 5 or 6 hours maybe.
Wrinkles like the devil, though.
Simplicity 1144
. From the envelope: "Misses' and Women's Slip and Panties: A top-stitched inset joins the softly gathered upper front to the bias-cut lower front. The upper back, shaped in a V at the lower edge, is top-stitched to the bias-cut lower back."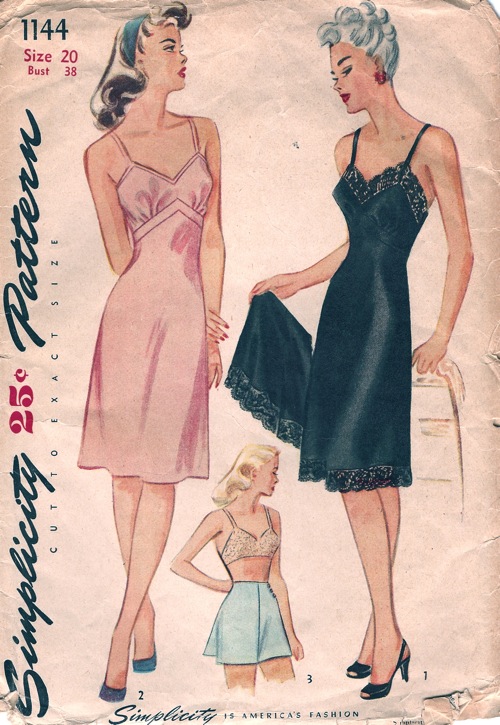 Simplicity 1144.
This little darling is from 1944. It was very easy to sew and the instructions were clear with great illustrations. One thing I changed was instead of using bias tape to finish the top edges, I drafted and cut my own front and back facing pieces.
For some reason my bias taped edges in satin always come out looking lumpy and I wanted to make sure that a construction flaw like that didn't detract from the lovely design of this pattern. I think I made the right choice.
I got the fabric from fabric.com... who sadly has stopped carrying this one. (I'm going to email them and see if they can get more because I've never enjoyed working with a fabric so much.)
Oh, and of course, Vincent helped.