A while back, I was watching a great bathing suit pattern on Ebay. And of course, it sold for an amazing sum so I set the info aside for a rainy day... it's not exactly raining but my studio is still wall to wall with boxes so this is a good time to blog about some patterns!
Are you ready for it?
This lovely original
Butterick 5758
from 1951 sold for an amazing
$145.98.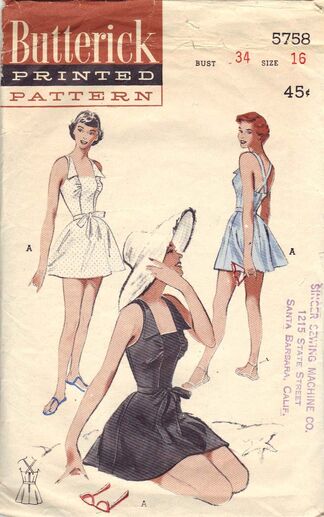 Take a look at those lovely details! This is no simple skirted bathing suit. Notice the lovely gathers at the princess seam over the bust and the clever turned back collar formed, it appears, straight out of the criss-cross straps! It's tiny little details like this that set this pattern a head above your average vintage skirted bathing suit pattern. On a side note, I should also mention that Butterick bathing suit/ playsuit patterns always seem to be a bit more scarce, and in my opinion, this drives the price up a bit.
(You can see pictures of the Butterick Pattern flyer advertising this, and other great patterns courtesy of Cemetarian
here
.)
For those of you waiting for a great bathing suit pattern that don't have that kind of bank laying around, here are a few options that might work more in your favor.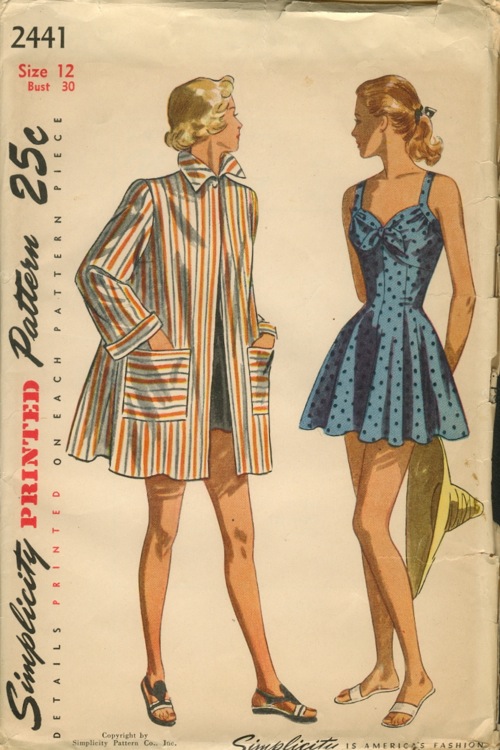 Available in a size 16 on Etsy at FancyWork, $55.
I know, many of you are thinking that summer is just about over for you. Summer has apparently just begun in Monterey (what fun! different seasons to learn!) and I can't get trips to the beach off my mind!