Hello lovely readers and happy weekend! I have spent the entire afternoon updating my previous post on the
Simplicity S-Series sewing patterns
. I found out some new ones, added some new ones to my collection, and took some photos!
I currently have S604, S606, S610, S615, S617, and S618.
The most recent addition to the collection is S617, a lovely little step-in pajama pattern.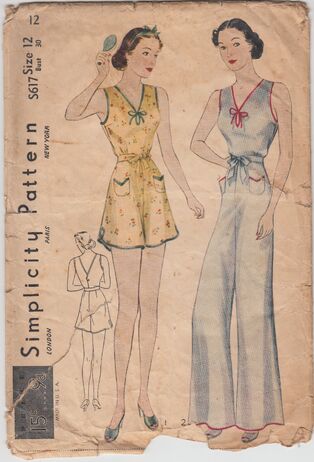 The S-series included a handful of patterns for children and men as well. I have been debating whether or not to include them in my collection as I find them and I finally decided that a complete set was the only thing I could tolerate.
If in the future you come across any S-Series patterns and want to let me know, you can email me at afewthreadsloose@gmail.com. I'm also quite interested in any Simplicity Fashion Forecast flyers or ads that might help me give an exact date to any of these.
A few of you have contacted me when you have seen some of these come up for sale and I owe much of my success in finding them to you, so thank you!