One of the interesting things about living in Norway is the food. You have your fish and potatoes to be sure, but those fish and potatoes are fresh and of very high quality. That being said, you only want so much of the national cuisine before you start to go a bit crazy.
Lutfisk... looks horrible, doesn't it? It is.
Norway thought of that too. There are several Chinese restaurants, a couple of Italian places, 2 Mexican restaurants, and a few others in my general area.
There are 2 downsides to this. #1. It still all tastes like damned fish and potatoes. #2. Said carefully disguised fish and potatoes will cost you an arm and a leg. On average, $30-$40 per person for food that wouldn't make the cut in your average U.S. restaurant.
So I've gotten creative. I've learned how to cook everything under the sun.
I didn't get the job that I was hoping for and it was just one too many slaps in the face since I moved here. I was in serious need of comfort food so I retreated to the kitchen, the place where I feel powerful and successful (because I'm awesome at food) and I made Mongolian beef using
this recipe
from blogchef.net.
And it was brilliant!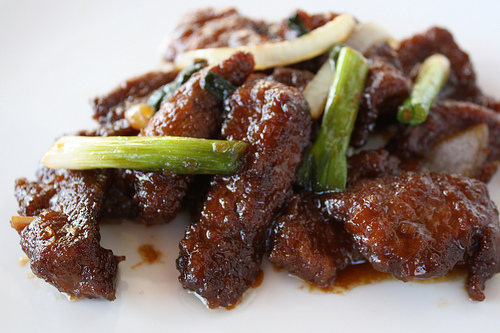 Even if you have a great Chinese restaurant down the road, you still want to make this. The recipe made enough for about 4 people with the rice and broccoli, and the Man and I at it ALL.
Neither of us could sleep after because we were so stuffed but it was SO worth it.
And that is all I have to say about that.